More Essex & London Projects by JJP Electrical
Garden Lighting And Power: Bexley Village, London
At this property, our client needed garden lighting and power for their outhouse-based gym and outdoor seating area.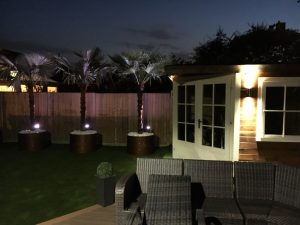 With no existing power supply in place, we ran a steel wired armour (SWA) cable – which is especially designed for outside lighting and power – from the power supply in the house to a mini fuse board in the outhouse.
From there, we ran more SWA cables to outside sockets and mini spike lights. To make the garden area unique, LED strip lighting was added externally around the outhouse gym – which creates a beautiful effect in the evenings.
Inside the outhouse we supplied power to a wall mounted TV, treadmill and lighting.
We used a clever product known as a Wise Box (made by Wise Controls) on this job. This allows the customer to control their lighting around the garden, using a handy wireless remote or wireless switch.
Not only is this convenient and useful for changing light colour and ambience, it also prevents property damage, as a result of chasing wires in the wall.
Commercial Lighting: Upminster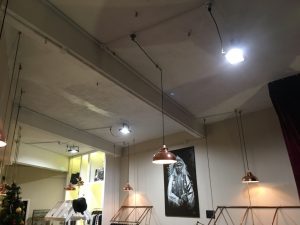 Lights in shops are often too dim, and customers can't properly see what they're buying.
Commercial premises often face this significant issue – and we're here to help. On this project, our customer – based in Upminster, Essex – needed us to brighten up their shop for the benefit of both customers and staff!
We specified and installed energy efficient LED lights. We made sure that we completed the works whilst the store was closed to avoid inconveniencing customers and impacting business. We also covered up certain areas of the shop to prevent dust and damage to stock.
If commercial lighting and power is something you need for your store or other premises, get in touch on info@jjpelectrical.co.uk.
External Lighting: St Albans
As well as brightening up the interiors of commercial premises, we also often undertake commercial external lighting assignments too.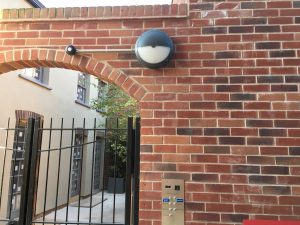 Our client in St Albans requested some external lights operated by photocells. These work in a clever way: when it's dark, the lights illuminate to give people (in this case tenants) a means to walk around safely.
We installed a Thorn LED light system for this project, and we ran the cable through a steel conduit in order to prevent the cabling from becoming damaged.
Whilst this was a well-installed job, our client ultimately decided on reflection that photocell operation of the external lights was not an efficient way to illuminate the area.
They requested we devised another way to solve this – and we rose to the challenge. We decided to install what are known as external motion detection PIRs, or Pyroelectric InfraRed sensors, which were programmed to turn on when anyone walked past from dusk onwards.
They look very similar to the other lights, so they didn't appear to be out of place – and our customer was very happy with our solution to his problem.
Residential Lighting And Power Installation: Hampstead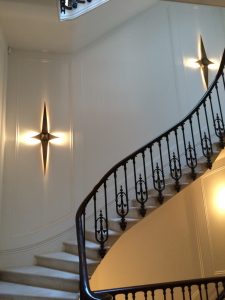 As well as commercial clients, we also undertake many projects for home owners.
This particular job was for a client who found themselves frustrated by previous contractors who not only failed to turn up on time but also regularly left jobs unfinished.
Having experienced our workmanship and professionalism, this client was very satisfied with the way we handled the project.
For this assignment we installed some high-end lighting and power installations in the property – some of which were manufactured by Hamilton, while others were heritage brass switches and sockets.
Lamp/Bulb Replacement, LED Lighting and Emergency Lighting: St George's Church & Office Space
Many spaces, both domestic and commercial, are lit by fluorescent tubes and halogen bulbs – both of these lamps are highly expensive to run.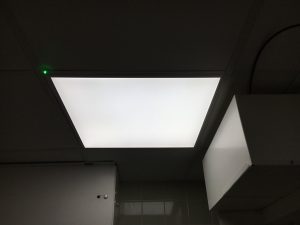 An alternative, however, is available. LED lamp replacement schemes are something we have a lot of experience with here at JJP Electrical, and this expertise came in useful when we worked on a project at St George's Church recently.
The initial task for this project was to carry out an Electrical Installation Condition Report (EICR), which we did. We found that many of the general lights, emergency lights and batteries were failing, and that these were all costing the church a fortune to run.
As a result, our client asked us to give a quote for replacing these lights and expensive fittings. When work began, the JJP team stripped out a lot of the old fluorescent tubing and halogen lighting and replaced them with either LED lamps or new compete LED fittings (some being emergency fittings).
If you're interested in our LED lamp replacement scheme then just get in touch. We can carry out a survey, and we can also illustrate where and how your energy bills can be cut down.
Electrical Contractors, Essex, London, LED Lamp Replacement Scheme, Residential Lighting, Commercial Lighting, External Lighting, Garden Lighting
Accredited Commercial Electrical Contractors – Chigwell | Epping | Loughton | St Albans | Upminster | Watford | St Johns Wood | Hampstead | Islington | Hendon |Lambeth | Golders Green | Cricklewood | Theydon Bois | Stratford | Borehamwood | Hertford | Hatfield| Barnet | London