Recent Projects Here At JJP Electrical
The team here at JJP Electrical undertakes a range of different projects. Here's just a selection to give you an appreciation of the type of work we do.
CCTV For A Roman Catholic Cathedral: Lambeth, London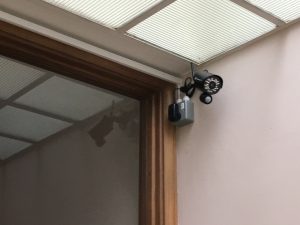 This particular project consisted of installing CCTV for a cathedral church in Lambeth, just south of the River Thames in London.
Due to the church having its doors open most days and nights, it had unfortunately become a regular target for theft.
A solution to deter potential thieves was to install a CCTV system. We added four cameras which were all linked by a wireless system: this, in turn, was run through a local Internet connection with a mini monitor.
The cameras needed to be powered by 240V sockets – and to stay in line with fire safety regulations, we used FP200 gold fire protective cables enclosed in surface trunking.
This system allows our client to view the cameras from a mobile device. And with motion detection alarms in place, the client can stay alerted and informed even if they're not close by the building.
Energy Efficient LED Strip Lights: Olympic Village, Stratford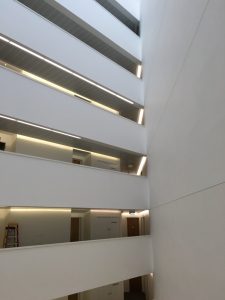 In this day and age, energy efficiency is vital for helping the environment – and for keeping running costs down, too.
In apartment tower blocks, this is especially important. Communal lighting regularly consumes too much of the building's energy, and this can have significant effects on bills.
Replacing old lighting with LED lighting, then, is a smart move. This is what we did at Vesta House in Stratford: by installing Aurora LED strip lights controlled by a Phillips Dynalite device, these lights are activated by sensors. This means that communal lights aren't left on all day, which cuts down on the landlord's bills.
Health and safety was at the forefront of our team's plans during the whole process. Mini emergency spot lights were installed for visibility, should a power cut happen, while the installation process was also safety-focused too.
We ensured that we used correct ladder apparatus, for example, and we also installed safe walkways for pedestrians walking by the building.
Electrical Underfloor Heating: Firs Walk, Welwyn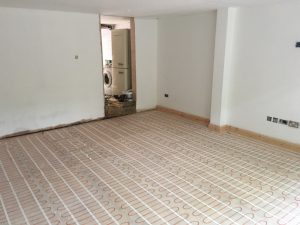 The main advantage of underfloor heating is that it can distribute energy more efficiently than many normal heating methods can, and it can also give you an even spread across the designated area – far better, in many cases, than an radiator can.
Not only are electrical underfloor systems great sources of heating, but if your floors are cold and uncomfortable then these systems can add some pleasant relief as you walk around too.
We installed underfloor heating at a property in Welwyn, Hertfordshire recently – including a Heatmat electrical heating cable, in a living room and a utility/kitchen area.
Before installing this system, careful planning was required, including liaising with the customer to find out what type of floor they were planning to install, as well as measuring the floor area precisely in order to source a system that fitted perfectly.
The heating cable was clipped to the underfloor ply using a staple gun. Great care was required to make sure that none of the wires overlapped, as this would have stopped the heating working correctly.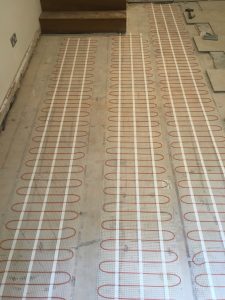 It is very important that an electrical test is carried out both before and after installing a heating cable. This is to confirm that the cable is intact, not damaged, and installed correctly.
This is exactly what we did on this job, but unfortunately we found that the flooring contractor, when installing the floor, had broken into the cable when laying the marble tiles down.
This was discovered when we attempted to energise the system. Upon discovering it didn't work, we performed another test – and this test concluded the cable had been impacted.
Our client, relieved that we had installed the original system correctly and in a professional manner, then gave us the go-ahead to relay the electrical underfloor heating system.
Having been relayed and retested, the system is now running perfectly – as confirmed by the householder.
Domestic House Rewire: Brentwood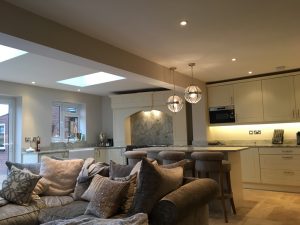 Many customers need fresh or new ideas for their home – and although the team at JJP Electrical Contractors aren't architects or interior designers, we are certainly happy to give an opinion or advise on how to make your home feel extra special.
This was exactly what we did for a recent house rewiring job for one of our clients in Brentwood.
We installed several items as part of this project, including LED spot lights, chrome sockets, outside lighting, satellite and digital television systems, and more.
Our customer also had a loft conversion in place, We rewired this room, installed LED TVs on the wall and added some very eye catching LED spot stair lighting.
We always provide a newly-rewired home with an electrical certificate, correct earth bonding, and any smoke, heat or fire alarms (should they be required).
Whether it's a partial or full house rewire you need, feel free to contact us for a free consultation and quotation.
Please see Environment Page for details of more of our projects.
Electrical Contractors, Essex, Energy Efficient LED Lights, Electrical Underfloor Heating, CCTV, Domestic House & Office Rewire
Accredited Commercial Electrical Contractors – Chigwell | Epping | Loughton | Upminster | |Brentwood | Welwyn | St Johns Wood | St Albans | Hemelhempstead | Hampstead | Islington | Hendon | Golders Green | Cricklewood | Theydon Bois | Stratford | Barnet | Lambeth